Building A Community of Sneakerheads and Gamers with Arcade Machines in Sneaker Shops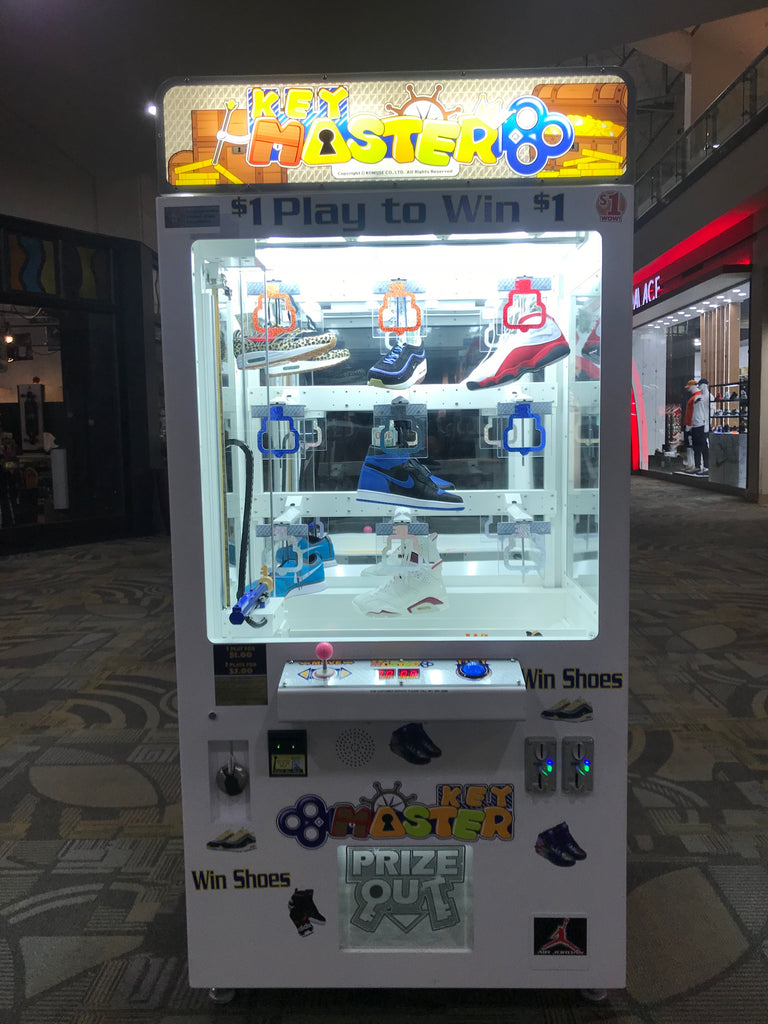 Brick and mortar establishments struggle to provide customers with something special and memorable at a time when online buying and faceless transactions are the norm. A creative solution that redefines the shopping experience and strengthens a sense of community among sneaker aficionados is the marriage of arcade games and sneaker shops. Let's look at how arcade games have developed into effective conversation starters that are building relationships and a thriving community within sneaker shops. 
The Rebirth of Arcades: Digital Age Nostalgia 
Unquestionably charming, arcade games make many people feel nostalgic. These coin-operated devices, which were created in the 1970s and reached the height of their fame in the 1980s and 1990s, were a vital component of popular culture. Retro video games are a beloved emblem for the older generation of happy childhood times spent at amusement parks with pals, fighting for high scores and perfecting vintage games like Pac-Man, Space Invaders, and Street Fighter. 
Conversely, younger clients who grew up in the digital era receive a taste of retro gaming, which is frequently absent from their lives, which are dominated by high-definition visuals and cutting-edge gaming systems. Retro games' accessibility and simplicity offer a welcome diversion from the intricate and frequently overwhelming world of modern video games. 
The shared enjoyment of playing vintage games creates a connection between people of different ages and immediately starts conversations about favourite games and formative experiences. A wonderful intergenerational bonding opportunity can be created when parents talk to their kids about their fond gaming memories. As a result, amusement equipment transcends its original role as a source of amusement to serve as a platform for storytelling and nostalgia-sharing. 
Easy Talking Topics for Breaking the Ice 
Customers who are new to the sneakerhead scene or who are naturally reticent may initially feel bashful or reserved while entering a sneaker store. However, the presence of arcade games fosters a friendly, laid-back environment that promotes interaction. These video games provide simple conversation starters, whether it's a friendly round of Street Fighter, a group run through Metal Slug, or a Pac-Man high-score contest. 
Customers frequently strike up discussions with random individuals while waiting in line to play the arcade games, discussing gaming tactics, swapping helpful hints, and remembering vintage culture. Some people may be playing these old games for the first time, which can spark discussions about the development of video games over time and the history of this particular genre of gaming. 
The social aspect of this kind of gaming in the context of a shoe shop encourages client camaraderie. People support one another throughout the action-packed gameplay, after a difficult level, or after someone earns a high score. These contacts foster an immediate bond between people who might never have crossed paths, enhancing the sense of community in the business. 
Creating Connections and Friendships 
Customers can communicate with one another and with store employees more easily thanks to Arcade Machines in Sneaker Shops. Conversations on shared passions for trainers and games readily flow as individuals gather around the machines. The mutual love of these two pastimes serves as a unifying force, laying the groundwork for enduring relationships and a sense of community. 
Customers frequently learn that they have interests beyond only a passion for trainers and old-school video games. They might enjoy the same types of music, clothing, or activities. These fortuitous meetings may result in long-lasting relationships that go beyond the boundaries of the store. 
These links are strengthened outside of the business by online forums and social media communities cantered around arcade games. Through websites like Instagram, Discord, or specialized forums, customers communicate and exchange contact information while sharing their most recent shoe purchases, gaming victories, and life experiences. The community of the sneaker store broadens through these online platforms to include enthusiasts from other towns, states, and even nations. 
Diversity And Inclusivity 
Arcade Machines in Sneaker Shop promotes inclusivity and breaks down boundaries. No matter who you are or what your background is, you may enjoy the excitement of gaming. The shared passion of these video games and trainers transcends social distinctions and fosters an atmosphere where everyone is valued and welcomed. 
People from all walks of life feel at ease interacting with one another in a shoe store that values this kind of variety. People from various ages, genders, and ethnic backgrounds frequently compete side by side at the retro machine. This diversity enhances the sense of belonging, establishing a setting that both recognizes and encourages originality. 
A fair playing field is also made available by arcade games, allowing everyone to engage without the requirement for previous gaming knowledge or technical proficiency. Classic video games are simple to pick up and play, unlike certain newer video games that may be scary to newbies. As a result, the arcade games at sneaker shops foster an environment that values diversity and embraces newcomers. 
Tournaments And Gaming Events 
Sneaker stores can host gaming competitions and activities cantered around their arcade machines to foster a sense of community. Whether it's a monthly gaming night, a weekend-long gaming fiesta, or a themed tournament, these events bring customers together and up the excitement level of the shopping experience. 
Gaming competitions generate excitement around the business, drawing both regular patrons and curious newcomers. Participants battle for bragging rights, first-look launches of new trainers, store specials, or even sponsored prizes. Healthy rivalries are encouraged by the excitement of competition, and everyone is reminded by the camaraderie among competitors that competing is also about having fun and meeting like-minded people. 
Custom Arcade Cabinets Demonstrate Creativity 
Sneaker shops can add innovation to the arcade machines to further improve the whole experience. Customized cabinets with original artwork based on recognizable footwear or video game characters not only improve the store's aesthetic appeal but also become talking points in and of themselves. 
These custom cabinets can be created by sneaker retailers working with regional artists or sneaker lovers, giving the gaming room a unique and original feel. The cabinets may have references to well-known video game titles, classic sneaker designs, or sneaker-related graffiti. There are countless options, and the artistic expression enhances the charming atmosphere of the store. 
The Community of The Sneaker Store Arcade Past the Store 
The shoe store's arcade games continue to build a sense of community outside of the doors. Online communities and platforms are essential for expanding a person's feeling of community to a larger group of like-minded people. 
Many sneaker shops that also have gaming consoles maintain separate social media pages where they post information about forthcoming events, fresh shoe releases, and noteworthy gaming moments. These social media sites act as online meeting places where clients and enthusiasts can interact with the business and one another. 
Particularly Instagram has emerged as a forum for sneakerheads to share their most recent purchases and network with like-minded individuals. shoe shops frequently encourage consumers to use store-specific hashtags to discuss their gaming experiences and shoe collections, fostering a digital community of others who share the same interests. 
For the community of the sneaker store, Discord servers have also grown in popularity as platforms for developing a virtual hangout area. Real-time communication is made possible by these servers, enabling users to plan meetups, discuss gaming tactics, and share news about sneakers. They also give retail employees a forum to share information about special offers, assist customers, and get community feedback.