Engage Interest of Mass People with Vending Arcade Game Machine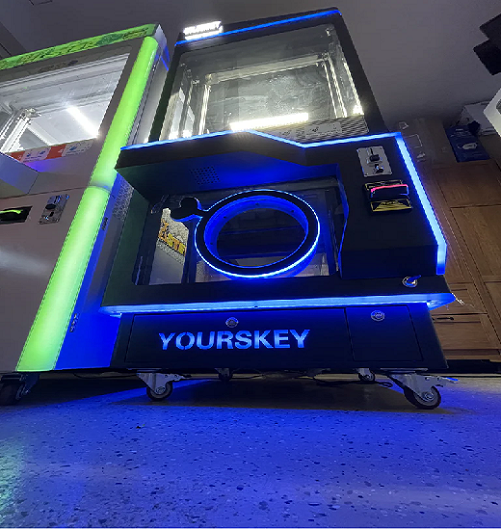 Are you familiar with Vending Arcade Game Machine For Sale? If not, don't worry. For your convenience, we have compiled some information that will enable you to understand what these redemption arcade games include. To discover out, read the article through to the conclusion. When it comes to redemption games, we can state that they are often referred to as skill-based arcade games that pay the player according to their overall game score. Tickets are the most common kind of reward.
You will get extra prizes for better scores as your ticket collection increases. After then, in a prominent site, these tickets may be redeemed for rewards. Cocktail arcade table machines are a thing. We cannot ignore games that provide rewards. The cheapest prizes are likely candies and little plastic or rubber toys, which only need a small number of tickets to win; nevertheless, the classiest prizes were likely low-end gadgets and skateboards, which may require more than a few thousand tickets to win.
In the grand scheme of things, the amount of money spent to acquire enough tickets to qualify for a prize will be more than the value of the item itself.  
Let your child play arcade games 
Nowadays, you may access everything with just one click from the comfort of your home or workplace. How can you get kids to go outside, visit your arcade games area, and make sure they come back often under such circumstances? Young gamers are drawn to cocktail arcade game machines, and participating in gaming events that provide gifts and prizes is a certain method to retrace your steps. Without a doubt, prize and ticket redemption games are well-known ways to make money and are considered to be profitable options at amusement parks.
Redemption Games are those that require various levels of skill and reward players exclusively based on their performance. The reward is presented in the form of tickets that may be exchanged for goods ranging from inexpensive ones, like toys, stationery, and chocolates, to more expensive ones, like electronics. The tickets given out by the inventive Wholesale Vending Arcade Game Machine at the conclusion of the game also provide the players a feeling of accomplishment, encouraging them to stick around and play for further tickets and come back for potential future games.
Create enthusiasm that sells
The reasoning above suggests that using your earlier games to buy what the market now has to offer may be a source of further income in and of itself. When you exchange your old arcade games for the biggest and newest ones available, you get more than just new games. Additionally, you'll have access to the networks of marketing materials that are now included with offers from major manufacturers, including Pankour Vending. Utilizing these materials in conjunction with your own social media platforms helps to generate interest and provide incentives that encourage customers to come inside.
Customers want information on the newest games, where to get them, and the benefits of leaving their gaming systems and couches in order to spend money at your business. A fantastic way to ensure a consistent flow of visitors to your gaming area is to invest in the newest games and make advantage of the marketing and social media tools that come with them.
The state of arcades today
A record number of arcade parlours served as the basis for the construction of arcade machines that attracted significant crowds of players. Most of these have recently ceased to function. The rarity of vending arcade game machines for sale and the resurgence of arcade games have both drawn new customers and retained those who were already customers. In today's innovation-driven atmosphere, business owners can take advantage of the resurrection of arcade games by using it in novel ways to boost their appeal and clients.
Custom arcade games might be advantageous for a small company in a variety of ways. Businesses could make use of this to advertise their brands and attract new clients. Arcade gaming will appeal to families that like playing video games with their kids. It also keeps children entertained on their own, giving parents a chance to relax and take a break.
Why should you buy Wholesale Vending Arcade Game Machines from us? 
We at Pankour Vending are staunch supporters of the gaming industry as a whole. Despite this, we give a priority on offline, old-school arcade game-style play. We decide to design an offline gaming experience for the person that is entertaining and difficult. Online gaming is undoubtedly more popular now since it fosters friendships and gives players a competitive advantage, but there's nothing to suggest the same can't be said for offline Vending Arcade Game Machine For Sale.
Limitless time
Everybody has experienced reaching a challenging game level and spending many hours attempting to complete it. It may be really annoying and unpleasant, particularly if it holds you back from moving forward. Fortunately, you have endless time with your own arcade machine! There are no "pay to skip" elements or "limited time events" since it is an offline experience, thus you cannot go beyond a level until it has been finished. You will ultimately succeed at this level since you will have devoted so much time to it, and your own arcade machine games will give you a genuine feeling of accomplishment that maybe internet gaming cannot.
Play in person with friends
Owning a custom Wholesale Vending Arcade Game Machine is fantastic since most people will find it to be incredibly amazing and want to play on it! Instead of using an online audio chat, this might be a terrific method to communicate with your friends in person. Since there is no way for the loser to leave since this is an offline game, this may give competitors a significant competitive advantage. You may play your vintage arcade game for hours while chatting with your friends and having fun, which improves the gaming experience.
Convenience
The convenience of playing classic arcade games offline is another advantage. When playing online, you waste time waiting for games to load, for your friends to connect, and until you can all agree on which game to play. You'll have probably spent several hours by the time everything is finalised when you might have started playing offline on your own arcade machine right now! It is as easy as turning on and playing your preferred game.
If you need a vending machine, contact Pankour Vending
If a Vending Arcade Game Machine For Sale seems like the appropriate match for your company, Pankour Vending provides a large selection of vending arcade game machines for sale, vending machine parts, and technical services. We are a family-owned business with sales offices all across the nation, and we can assist you with whatever vending needs you may have.
With more than a century of combined industry experience, our team will work with you to ensure that you have the right product for your location and that it is profitable.
Look at our incredible selection of arcade games if you want fun and excitement. Visit our website right away if you have any questions regarding our items instead!