The Perks of Installing Arcade Machine to Your Sneaker Store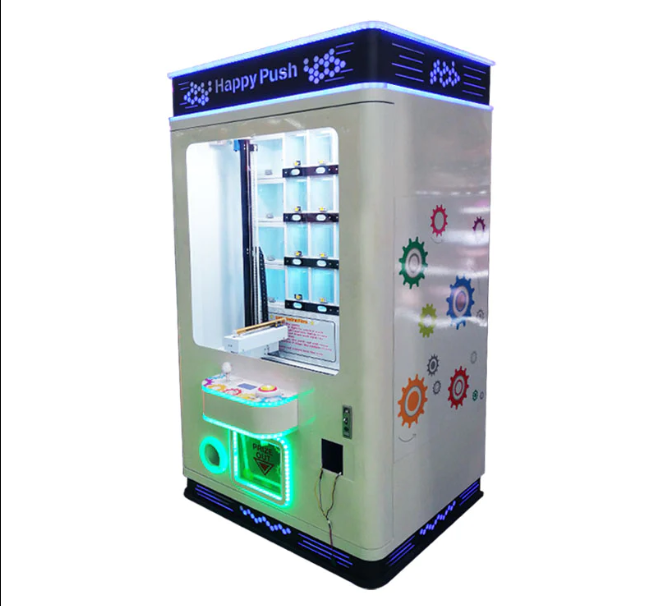 Arcade machines have become an essential part of modern retail stores, and sneaker stores are no exception. These machines offer a convenient and efficient way for customers to purchase their favorite sneakers without the need for human interaction. In this blog post, we will explore the benefits of using arcade machines in sneaker stores and how they can improve the shopping experience for customers. 
One of the main advantages of using our products in sneaker stores is that they allow for 24/7 availability. Unlike traditional retail stores, which have set hours of operation, arcade machines can be accessed at any time, making it easy for customers to purchase sneakers whenever they want. This is especially useful for customers who may not be able to visit the store during regular business hours. 
Another perk of these devices in sneaker stores is that they save time for both customers and store employees. Customers can quickly and easily purchase sneakers without having to wait in line or interact with a salesperson, which can be especially helpful during busy times. Additionally, store employees can spend more time helping customers with other needs or working on other tasks, rather than being tied up at the register. 
Pankour Vending's Key master arcade machines offer a unique and engaging shopping experience for customers. With advanced technology, it now comes with interactive touchscreens, digital displays, and even augmented reality features that can make the purchasing process more fun and exciting. 
They are a valuable addition to any sneaker store. They offer 24/7 availability, save time for both customers and employees, provide additional revenue streams and create a unique and engaging shopping experience. If you're running a sneaker store or thinking of opening one, consider incorporating gaming into your business model.
How Can A Arcade Product Help You Increase Your Sales?
In today's fast-paced world, customers are always looking for new and innovative ways to purchase the products they love. Sneaker enthusiasts are no exception, and they are always on the lookout for convenient and efficient ways to purchase their favorite kicks. This is where our machines come in. Pankour Vending's arcade products provide a unique and convenient way for sneaker stores to offer their customers a wide selection of sneakers in a small space, and without the need for human interaction. Here are a few perks which you can't ignore- 
Contactless purchase: With these machines, customers can make their purchases with minimal contact with staff and other customers, reducing the risk of transmission and providing a safer way to purchase sneakers during the pandemic. 
Increased foot traffic: These gaming devices can attract customers who might not have stopped at your store otherwise, providing an opportunity to increase sales and exposure. 
Reliable Maintenance: You may save costs on installation and maintenance by working with a reputable gaming equipment company like Pankour Vending. They will work with you to choose the best location and products for your business in order to guarantee that your machine is always supplied and operating at its best. 
Boost Client Value: Another option is to build self-serve equipment that customers may use without being charged. This is a fantastic way to provide more rewards to customers that engage with you. If you have a shop, you may install a gaming unit there and use the area as a hangout for your customers to attract more business. Consider unconventional approaches and develop some fresh concepts; you never know, but they could really increase customer satisfaction. 
A customized gaming gadget for your business has several benefits. It's a great approach to increase revenue, improve client relations, and show your business has a fun side. If you're thinking about installing it, make sure you evaluate all the advantages it might provide your business. It's feasible that it will enhance your business and increase its success. 
Why Should Customers Go To The Sneaker Store And Play In An Arcade Machine? 
Convenience is essential in today's world. And what's more convenient than buying the latest kicks from the comfort of a gaming unit? Sneaker stores are now introducing gaming units that dispense the latest and greatest shoes, providing customers with an exciting and unique shopping experience. Here are some of the reasons why consumers should visit sneaker stores and play in arcade machines. 
Reason 1: Convenience 
Gone are the days of waiting in long lines and dealing with crowds to purchase the latest shoes. With these games, you can quickly and easily purchase the shoes you want, at any time of day. Simply select the shoes you want on its touchscreen, insert your payment, and voila! Your new shoes are dispensed right before your eyes. 
Reason 2: Variety 
These gaming units offer a wide variety of shoes to choose from, including limited edition releases and exclusive colorways. This means that customers have access to a wider range of shoes than they would if they were shopping in-store. 
Reason 3: Excitement 
The arcade machine experience adds an element of excitement and surprise to the shoe-buying process. Will your chosen shoes be dispensed as expected? Or will you end up with a surprise pair? The excitement of not knowing adds to the thrill of the purchase. 
Reason 4: Easy Access to Rare and Limited Edition Shoes 
Sneakerheads know that getting their hands on limited edition and rare shoes can be a daunting task, with long lines and high prices. With arcade machines, customers have a chance to purchase these shoes easily and at an affordable price. 
Reason 5: Show Off Your New Kicks 
Finally, once you've successfully purchased your new shoes from the arcade game machine, you'll have the chance to show off your new kicks to your friends and fellow sneakerheads. 
Arcade machines at sneaker shops provide consumers with a quick, interesting, and one-of-a-kind buying experience. With the added bonus of easy access to limited edition and rare shoes, customers should definitely go and play in the gaming units at sneaker stores. Happy shopping! 
Why You Should Consider Buying Our Arcade Machine or Your Sneaker Store? 
Arcade game machines are a valuable addition to any sneaker store. They offer a unique and convenient way for customers to purchase their favorite sneakers 24/7, with minimal contact and increased selection. It also saves time for both customers and employees, increases foot traffic, and provides additional revenue streams. Our gaming equipment is a cost-effective option for retailers, with reliable maintenance and the opportunity for brand exposure. If you're running a sneaker store, consider incorporating such machines into your business model to improve customer satisfaction and streamline operations. 
Pankour Vending provides a large selection of gaming equipment for sale, its parts, and technical assistance if you believe this would be a suitable match for your sneaker store. We are a family run business with sales offices all around the nation, and we can assist you with whatever needs you could have. 
Our team will collaborate with you to ensure that you have a lucrative product for your area. Together, we have more than a century of industry experience. 
Take a look at our incredible selection of arcade games if you want to have fun and be delighted. Instead, visit our website right away if you have any questions regarding our goods.