Activate Public Interest with Vending Arcade Game Machine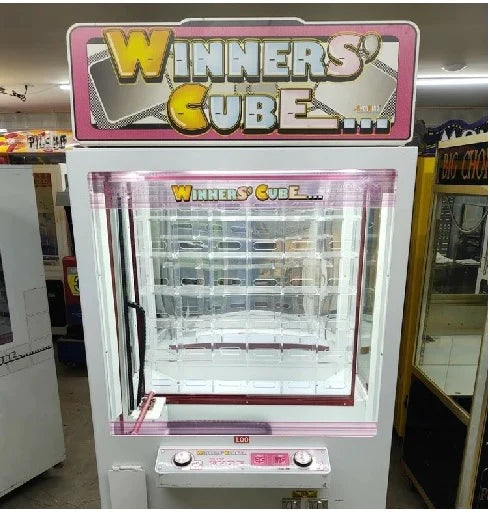 Do you know anything about the for sale vending arcade game machine? If not, don't worry. For your convenience, professionals have gathered some information so that you can comprehend what these redemption arcade games involve. Rewarding players based on their overall game score, skill-based arcade games are frequently referred to as redemption games. A ticket is the most popular type of reward.
You will receive more incentives for higher scores as your ticket collecting increases. These tickets can then be traded for rewards at a well-known site. There are machines that mimic cocktail arcade tables called wholesale vending arcade game machines. Prize-giving games must not be disregarded. The most upscale prizes were probably skateboards and low-end electronics, which might require more than a few thousand tickets to win. The least expensive prizes were probably candy and small plastic or rubber toys, which only required a few tickets to win.
In the long run, it will be more expensive to purchase enough tickets to qualify for a reward than the prize will be worth.
Redeem tacky-looking prizes with Wholesale Vending Arcade Game Machine
A coin-operated entertainment device known as an arcade game is often found at amusement arcades, bars, clubs, and other public places where people could be searching for some type of diversion (while they wait for a bus or train, for example). Arcade machines and games where you have to use a little crane with a mechanical claw to lift a somewhat tacky-looking prize out of the bottom of a glass cabinet are two examples of the many different sizes and designs of arcade games. However, the arcade video game is the type of arcade game that interests us.
In that their housing cabinets are typically ornately adorned, such games share design elements in common with the earlier, non-computerized games that have been around since before the turn of the twentieth century. The levels in the games themselves are often quite brief, get progressively harder, and feature simple controls. Unlike the racing and flight simulators they are intended to emulate, racing and flight games often have a relatively easy learning curve.
Why is arcade gaming growing in popularity?
The growing number of people who spend their free time at arcades playing a variety of various video games is proof that Vending Machines are gaining popularity.
It's a lovely and unique game that's frequently played in public places like cafes, bars, and shopping malls. You can play the game by dropping a penny into the slot. Similar games usually just have a small cost. Most people who have tried it concur that it may be challenging to stop playing arcade games once you get started.
The Vending Arcade Game Machine For Sale, however, allows you to enjoy yourself and unwind while doing so in the comfort of your own home.
Give your kid access to arcade games
These days, you can access everything from the convenience of your home or business with just one click. In these conditions, how can you get youngsters to walk outside, check out your arcade games area, and ensure they return frequently? Vending arcade game machines are popular with young players, and taking part in gaming competitions that provide presents and prizes is a surefire way to retrace your steps. Prize and ticket redemption games are without a doubt well-known methods of revenue generation and are regarded as profitable choices in amusement parks.
Redemption games are ones that award players solely depending on their performance and call for varying degrees of expertise. The reward is given in the form of tickets that can be exchanged for items ranging in price from cheap to expensive, such as toys, stationery, and chocolates. The creative Wholesale Vending Arcade Game Machine's tickets distributed to the winners of the game also provide the players a sense of success, enticing them to stay and play for additional tickets and return for potential future games.
Inspire interest that sells
The justification given above implies that using your older games to purchase what the market has to offer right now can be a source of further cash unto itself. You get more than just new games when you trade in your outdated arcade games for the largest and newest ones available. You will also have access to the networks of promotional materials that are currently provided with offers from significant manufacturers, such as Pankour Vending. By using these resources with your own social media channels, you may raise awareness and offer incentives to draw clients inside.
Customers want details on the newest games, where to buy them, and why coming to your store would be better than staying on their sofas and gaming systems. Investing in the newest games and utilizing the marketing and social media tools that come with them is an excellent method to guarantee a steady stream of people to your gaming area.
Improved capacity for decision-making
An example of a fun device is an arcade game machine. Since they have to make a lot of decisions, they must improve their decision-making skills. This is particularly true at work, where it is necessary to exercise excellent judgment to avoid harm. One of their best features is the fact that arcade games encourage youngsters to play. Depending on the category, they are available in a wide range of sizes and shapes.
Different genres support the growth of leadership abilities. Playing video games helps players gain leadership skills in this way. This is the person's primary motivation in this regard. It has come to people's attention that playing video games at an arcade may be entertaining and beneficial.
Different shapes and sizes
One type of amusement equipment is wholesale vending arcade game machines. However, people frequently use these devices in public settings like bars, clubs, arcades, and other gathering areas. While they wait for a bus or train, they pass the time. In their free time, people like playing these humorous games. Arcade games come in a wide variety of styles. They come in a variety of sizes and shapes depending on the category.
These are currently the top non-computer games available. On the other hand, the games' simple controls make them simple to play. However, many individuals still play free online games because they are interesting and intriguing enough.
Eliminate time-consuming tasks
Arcade Machines have piqued the interest of inventors. The few inventors who rely on patents for their livelihood must spend a lot of time and energy marketing and safeguarding their creations. To do this, they will work as salespeople or attorneys. Vending Arcade Game Machine For Sale does away with all the time-consuming labor necessary for construction. Once the prototype goods begin to bring in money, the designer might concentrate on this concept.
Creating a memorable experience
Consider how you may set your company apart from the competitors. Any ice cream shop, for instance, might offer shakes and cones, but if your business has an indoor arcade game, customers will choose it over rivals.
The healthy competition that results from playing Pankour Vending's Wholesale Vending Arcade Game Machine with friends and family may be a terrific way to foster togetherness. Customers may travel further to your establishment since they are having so much fun playing games while they wait for their food or drink. Arcade game integration raises the allure of your place.