Claw Machines For Sale - A Fantastic Option for your Business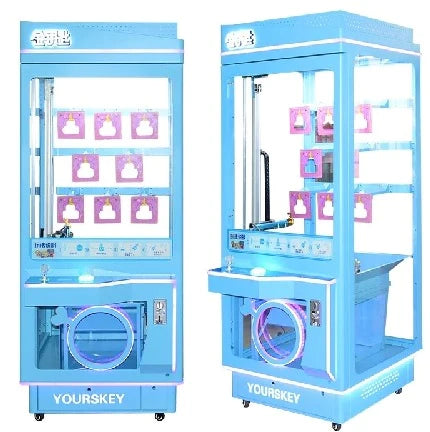 Arcades frequently offer claw machines for sale. It is also logical. Many people are drawn to these chance and skill-based games. They huddle together and spend a lot of time attempting to get the claw to grab onto their preferred object. Claw machine games are a fantastic option for your business site because they generate this much interest and excitement.
These arcade classics are being recreated for a new audience as a result of their growing popularity across the globe. They continue to offer a fantastic method to create a steady stream of income while having fun. Continue reading to find out how claw machine games might affect people's future prosperity by fusing history, cutting-edge technology, the hottest prizes, and sound business principles.
The popularity of Claw Machines
A claw crane, a skill crane, or other variants of these words can also be used to refer to a claw machine game. All across the world, people still like playing claw games. There is a noticeable increase in how popular they are with young children, although adults and older adolescents used to utilize them more than any other age group.
This results in more distinctive fashions with bolder hues and cartoon figure graphics. Nevertheless, businesses like Pankour Vending provide a broad option for all kinds of businesses. Although they come in a variety of sizes and offer various prizes, the fundamental design never changes.
Arcade Game Design
Let's examine claw machine components. The device resembles a big vertical box. In most situations, this is made of lightweight metal or fiberboard. Transparent acrylic or glass often makes up the front and sides of the top portion. This enables all of the players and supporters to assemble and inspect the merchandise stacked inside. 
The gaming devices have a surface with all the controls and a slot for the player to insert their money. Of course, there is also an above mechanical claw.
The inner workings of a claw skill game are surprisingly intricate since they handle the crucial tasks of accepting the players' money, ensuring that it is the appropriate amount, manipulating the claw with the joystick or another controller, and maintaining proper power to all the elements.
The joystick or other control will always operate the claw as intended if this is set up properly. The owner or operator of the machine is free to alter the parameters whenever they desire to promote greater earnings, more prize wins, or other variations.
Why Would You Want to Install a Claw Machine
A claw machine game is the ideal way to boost revenue if you run a store, arcade, or other establishment that primarily serves children and families rather than adults.
When a passerby or shopper for other goods notices a claw machine, they become immediately intrigued to try their luck. Children scream to get their hands on the goodies, and adults recall the good times they had when they were kids.
Actually, the majority of claw machine users are adults and teenagers. In an effort to win a stuffed animal, a portable electronic item, or another prize, they could spend a lot of time and money in front of one. These arcade choices are an excellent option for your business because of this focus.
Game Claw Machine's Potential for Profit
How much money a new business generates and how much it costs to run and maintain it are the two key factors that define how profitable it might be. People spend different amounts of money each time they use a claw machine. To draw people in, you'll need a desirable venue, enticing incentives, and marketing.
In fact, when putting one of these arcade options in a busy area, it is almost impossible to lose money. As long as there is foot traffic, people will pause and try to win one or more prizes. The option to control how frequently a player wins the jackpot provides the machine owner with a low risk. Depending on whether players are winning a large amount of money or not, the automated control system modifies how the game is played.
In the end, it depends on how adept and persistent the individual using the claw is. However, the programming does have some influence over how likely they are to win repeatedly. Nobody who invests in a claw machine game wants to lose their money, after all. Low operating and maintenance costs. Since these devices must be plugged in, your electricity cost may increase slightly. The amount of money people spend attempting to obtain their desired object can easily offset all of this.
Creative Ways to Connect Video Games to Your Business
You can tailor the alternatives to more closely reflect the rest of your business, even though many claw games in arcades and comparable stores center on cuddly animals, little toys, generic gadgets, and plastic balls with tiny rewards inside. They can even help your company as a whole by choosing the right prizes. However, whatever you decide must have a specific shape that enables the claw to grip it. Smooth-sided game cases cannot be used in the machine since nobody would ever win anything.
No matter what kind of business you own, your customers might enjoy a claw machine. Even better, you can constantly promote a super-special prize in the machine. You enter a second individual if the first one wins. These can include more expensive goods like plastic boxes containing actual jewelry, autographed sports memorabilia, or gift cards to your store.
You are more likely to make sizable earnings if you think about how the claw machine game fits into your whole business. If a prize they earn relates to the reason they visited, customers who are shopping for a specific product type or receiving a specific service at your establishment are much more inclined to test their talent there.
Excellent Places to put these Machines
Many sites are suitable for the deployment of claw machines for sale. First, you can think about putting one or two of these in an already-existing store or company. One of these games can draw more attention to and increase interest in other types of things if you sell them.
A claw machine game can increase profitability and make a customer's visit more enjoyable if you own a service-based company that specializes in serving families or kids, such as a family hair salon or a children's photography studio.
Others decide to buy numerous claw machines and pack a whole storefront with them. Other coin-operated stand-up games, such as pinball or video game alternatives, may also be included. Visitors to these kinds of arcades receive nothing but pure entertainment. In this kind of situation, it is simpler to draw a throng to the claw games. 
It's a great idea to install a Claw Machine
Contrary to popular belief, claw machines for sale have been popular for far longer. People were drawn to this kind of game that combined skill and luck even before the 20th century got started. Now, the owner of a business has a wonderful option to boost sales and persuade more customers to stop and take a closer look by installing a claw machine there. People will never get weary of the enjoyment and interaction that playing claw machine games provides. While you examine the possibilities of spending your income with this enjoyable sort of arcade company, take a look at the extensive product line of claw game machines offered by manufacturers like Pankour Vending.