Experience the Thrill with Arcade Machines in Popular Restaurants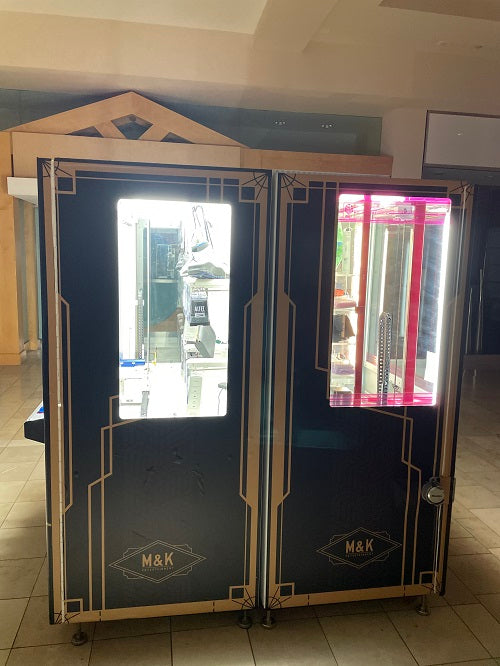 In recent years, arcade machines have grown in popularity in pubs and restaurants since they provide patrons with a pleasant and entertaining experience while they eat or interact. It's critical for businesses to discover strategies to stand out and set themselves apart from rivals in the current, fiercely competitive restaurant industry. 
Increasing income is always a top concern in the fiercely competitive restaurant sector. Popular restaurants that have arcade equipment on their premises have achieved success in this manner. These gaming machines from Pankour Vending not only delight players but also have the potential to increase revenue. 
Making an Original Experience 
It might be difficult for restaurants to stand apart at a time when eating out has become a regular practice. Restaurants may distinguish themselves from other businesses by introducing such machines since they provide a distinctive experience. A memorable experience may be created by providing a fun and interesting activity that clients cannot readily reproduce at home or elsewhere, which will drive them to return. 
Increasing Recurring Revenue 
Each restaurant's main objective is to get consumers in and keep them coming back. By providing users with an activity that will keep them interested for a long time, these machines may assist in achieving this aim. Fun-loving patrons are more inclined to stay longer, make larger purchases, and frequent the business again. 
Bringing in new clients 
Moreover, video game consoles may assist draw in new clients who would not have otherwise given the restaurant any thought. For instance, families with kids or adolescents could be tempted by a restaurant offering arcade games since it gives everyone in the group something fun. Also, because they may indulge in their interest while still getting a bite to eat, gamers or those who prefer competitive activities may be more inclined to visit a restaurant that provides these games. 
Growth of Revenue 
Restaurant income may also grow with the addition of these types of equipment. Clients who are having a good time are more likely to spend more money on food and beverages, as well as maybe order more things or make repeat purchases. Moreover, a variety of pricing techniques, including game-by-game pricing or flat-rate pricing for unlimited play, may be used to generate revenue from these machines. 
Generating buzz and attention on social media 
Restaurants may generate buzz and social media interest by having this equipment. Social media sites are likely to see customers posting pictures and videos of themselves playing games, which helps promote the business. This may result in more people knowing about the restaurant, which may assist draw in new clients and promote repeat business. 
Increasing the Ambience 
A restaurant's ambiance may be improved by adding arcade games. Restaurants may create a dynamic and exciting ambiance that encourages guests to connect and engage with one another by offering a pleasant and entertaining activity. Also, these may contribute to the development of a nostalgic environment that attracts patrons of all ages. 
Serving Several Consumer Segments 
Lastly, these games may assist restaurants in serving various consumer groups. For instance, businesses that sell sports or racing games may appeal to a younger, masculine population, but businesses that sell old arcade games or games suitable for families may appeal to groups of people who like retro gaming. 
Every restaurant trying to stand out in a congested market might benefit from adding such equipment. Restaurants can use these machines to differentiate themselves from their rivals and give their customers a memorable experience by providing a distinctive experience, promoting repeat business, luring new customers, increasing revenue, creating buzz and social media attention, enhancing the atmosphere, and catering to different customer segments. 
Revenue Growth from Game Sales and Prize Redeeming 
Coin operated arcade machines available at Pankour Vending may be a substantial source of income for food courts of any size. Restaurants may profit by taking a cut of the money that customers pay to play the games. Also, some restaurants have prize redemption systems where patrons may exchange their winning tickets for rewards. With these schemes, patrons are encouraged to invest more time and money in gaming, increasing the restaurant's income. 
Also, restaurants may collaborate with game providers and arrange advantageous revenue-sharing contracts. This may generate extra cash for the restaurant while also ensuring a continual stream of fresh and fun games for the patrons. 
Use arcade machines to host private events and business gatherings 
Hosting private events and business gatherings is another way that these games may boost profits for well-known American eateries. While there is sometimes a minimum expenditure or rental charge for the use of the facility, these events may be a significant source of income. These gatherings may become even more enticing by including such equipment, particularly for younger participants. 
Use contests and loyalty programs to encourage repeat business 
Contests and loyalty programs are excellent ways to encourage repeat business and keep clients coming back. Some well-known restaurants in the US have loyalty programs that provide discounts or rewards for regular patronage. 
Contests are yet another excellent approach to engage clients and encourage repeat business. Restaurants might hold competitions or provide prizes for high scores to entice customers to return and retry. The reach and earning potential of these competitions may be further increased by using social media to promote them. 
Techniques that Work to Boost Revenue 
Such games may be a useful strategy for well-known American restaurants trying to boost sales. Restaurants may increase revenue from their machines by bringing in new customers, retaining them, and introducing prize redemption programs. Organizing corporate events and private gatherings, encouraging repeat business via loyalty programs, and holding promotions may all be successful ways to boost sales. These machines may benefit restaurants, their patrons, and the industry as a whole with the correct selection of games and promotions. 
Things to remember 
There are a few things to consider if you operate a restaurant and want to add arcade games to your space. 
While choosing games, take into account the demographics of your intended audience. Whether your target demographic is young people who prefer competitive gaming or families with small children, choose games that will appeal to them.
Ensure sure the games are kept up-to-date: Verify that the equipment is kept up-to-date and functional. Nothing makes paying for a game that doesn't function correctly more unpleasant for the consumer.
Be mindful of noise levels: These games may be loud, so it's crucial to take into account the acoustics of your restaurant and make sure the noise level does not disturb other customers.
Think about designating a space within your restaurant for these games. This will foster a lively, sociable environment and help keep noise levels under control.
Be sure you establish clear pricing and guidelines for such games. Think about providing price tiers that accommodate various client preferences, including pay-per-game or unlimited play for a set charge. Don't forget to establish guidelines for gameplay, such as restricting the number of participants per game or placing time restrictions on participation. 
A fun and practical method to set your business apart in a busy market is by installing arcade machines in popular restaurants. These machines from Pankour Vending may help elevate your restaurant to the next level by providing a distinctive experience, promoting repeat business, luring new customers, raising income, generating buzz and social media attention, improving the ambiance, and catering to various consumer groups. Just bear in mind to consider the consumer demographics, maintain the equipment correctly, be mindful of noise levels, designate a specific location, and establish clear pricing and guidelines.