Let your Kids Celebrate this Christmas in a Special Way with Kids Arcade Games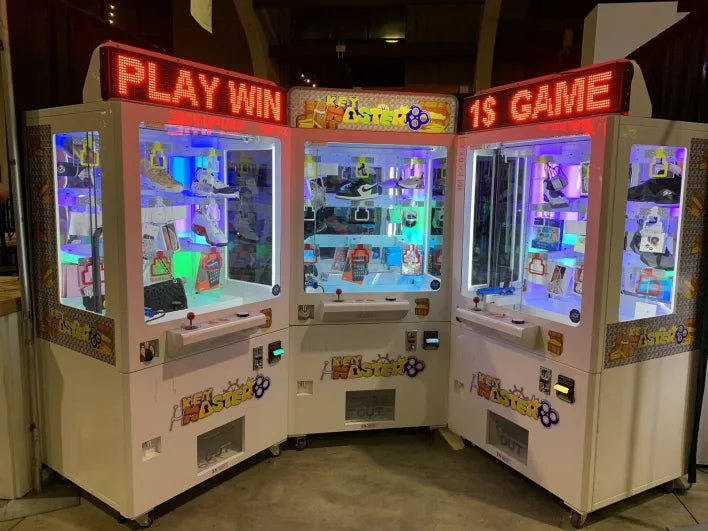 For kids, Christmas is a special day that they will remember far into adulthood. The formal start of the Christmas season has come. Finding activities for your children to do might be challenging when preparing a Christmas dinner feast and preparing the home for your party visitors. You're in luck because there are some activities for kids such as playing arcade games that will keep them occupied for hours. You could even discover that the grownups want to participate, so include these Christmas games for the family. 
The fact that these kid-friendly arcade games are as simple to produce as they are to play is their finest feature. Playing these arcade games will make you want to break out your Christmas party games for adults to extend the enjoyment throughout the evening. So get everyone around with a cup of hot chocolate and put on your competitive faces! Get ready, set, and holler! 
You have the chance 
Christmas is a season when friends and family members travel great distances to be with the people they love. Why not give them some fun activities and lifelong experiences to make this Christmas season more enjoyable and unforgettable? Childhood experiences should be enjoyable and enduring because of the feelings they evoke. You have the chance, as a parent, to figure out how to let your kids have fun and make wonderful experiences that they will cherish as they become older. This may take various forms, but often the most straightforward activities are the most enjoyable. For instance, going into an arcade as a kid is quite exciting because you can see all the games available, you can see the bright lights, can hear the varied sounds, and can know that you will have fun there! Arcade games provide a fantastic option for family entertainment. 
Become more aggressive 
People often spend their leisure time playing arcade games. However, playing video games might have negative health impacts. It is debatable whether these outcomes are positive or detrimental. Children's learning, health, and social skills may all be enhanced by arcade games. 
Video games are fun for everyone, including kids and adults. According to a study, playing video games has advantages. Research has also shown that playing video games may cause sleep disturbances, media addiction, and aggressive conduct. 
If your kid is acting in a worrying way, you may need to intervene. They could get irritable while not engaged in their game, or they might become more aggressive. Even if this practice persists, there are methods you may do to control your consumption of violent media. 
Take a Skill Test 
Are you prepared to try your hand at hundreds of games and see how you fare? In order for the whole family to have fun and win fantastic prizes, we want to present to you the greatest arcades in your area. Why not get behind the wheel in your favorite arcade's top new racing games? Try out your abilities on the kid-friendly arcade games to see if you can take home some great rewards! 
This is a fantastic activity that the entire family can enjoy—or even share with friends! Are you ready for a wonderful time? Next, let's explore the benefits of arcade games for you. 
Arcade games for kids may keep them occupied 
Additionally, your child will enjoy playing with other kids a lot. One strategy to promote tension and other ideas is to stay at home and do nothing. So that you won't have to worry about the items that bring back terrible memories, and keep their mind engaged. Every time they visit a video gaming arcade, they must be prepared to have fun. They are accessible 24 hours a day, seven days a week. This is crucial because whenever you have spare time, your youngster may visit the gaming arcade. 
The fact that there are no restrictions on how often you may play at an arcade is another important advantage. Nobody will be able to control you. Thanks to companies that supply kids arcade games, like Parkour Vending, you could now get the enjoyment you've always desired. They have an obligation to their guests to ensure their enjoyment. You'll like playing a variety of games. 
Benefits of Arcade Game Playing 
Children may learn to solve problems by playing video games. As past studies have revealed, they are not idle. The cognitive abilities of your youngster may be improved through video games. They may strengthen your child's potential for three-dimensional thinking. 
Playing video games has various advantages for your child. Simple games can lift your child's spirits, promote relaxation, and alleviate worry. Children may acquire emotional resilience by improving their capacity to deal with disappointment in video games. 
Another advantage of arcade games is that they promote socialization. In the digital age, this is how your child can communicate with friends and decompress. By playing arcade games, your child may meet other kids their age who share their interests. 
Improves memory, cognitive function, and focus 
Players need to retain and take in a lot of information while playing immersive games that need strategy and problem-solving abilities to succeed. Playing these kinds of games frequently may improve young players' short- and long-term memory. They could also be more adept at processing data. In addition, playing arcade games engages players' imaginations, which aids in maintaining their attention and fostering a spirit of persistence. 
Develop skills for future employment 
The more challenging multiplayer games help to teach players how to analyze risk and reward strategically and logically. Young talent should react fast to games that have changed in order to win such games. Children may benefit from this type of gaming by gaining skills that can be applied to real-world jobs that demand problem-solving, analytical talents, and strategic thinking. 
Group play has positive social effects 
These kinds of games can create connections through shared experiences, whether they are utilizing family-friendly apps in the living room with the family or playing multiplayer games with friends. They also improve children's social skills. It may also allow children with impairments to build connections that they would find difficult to do in the real world, which promotes their overall development. 
Encourages cooperation and self-assurance 
Young players gain from multiplayer gaming because it gives them the chance to assume a variety of roles, such as leading teams or cooperating with other players to win. Children's confidence may be boosted by working together and learning from one another via the shared experience. 
Offers an enjoyable means of staying active 
The popularity of games that encourage kids to be active while playing arcade games, is an illustration of how gaming helps kids. Additionally, kids may now play games on the move thanks to the growth of mobile gaming applications. See Pankour Vending's collection of interactive games that keep your youngsters moving as they play. 
Aids in cultivating awareness 
Numerous video games and mobile applications have been created to assist kids in managing their emotions and to promote good deeds, compassion, and empathy. For further information, see our collection of well-being applications. 
A fresh approach to encounter tales 
Children may connect with and learn from tales in new ways with the aid of immersive games. The narrative style may inspire creativity and enhance the themes' memorability. Through narrative, kids arcade games may aid youngsters in developing crucial abilities. 
Creates excellent methods for learning subjects 
Schools now use game-based learning more often to aid pupils in comprehending and considering difficult subjects. These could aid youngsters in developing their arithmetic abilities or understanding scientific principles. Gamifying education and letting kids take a fresh look at things might help them understand concepts more quickly and deeply. 
Make your family prosperous 
Kids will be kids, even on the best days. They are far more likely to be vigorous, disobedient, and mischievous when they are excited. To make sure that everyone is on the same page this holiday season, if your family is preparing for any kind of event, talk about your expectations — and any consequences — in advance. Consider for a minute that youngsters at this time of year are often overstimulated, overexcited, and sugar-laden. If you don't think your kids will be able to sit quietly for an hour-long concert, decide not to go. Long-term, you'll save yourself a lot of worries, irritation, and disappointment.