Target Your Desired Audience and Flourish Your Business with Vending Arcade Game Machine For Sale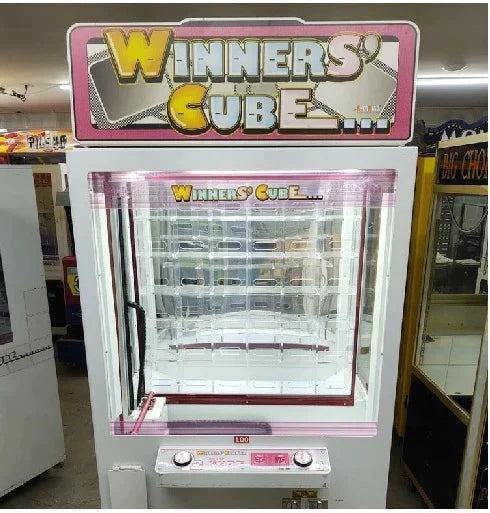 If you want to establish an arcade company, you must first evaluate the local market potential, the demographics of that local market, and, perhaps most importantly, your own personal ambitions for the arcade business.
When seeking to launch your arcade company, there are a lot of alternatives to think about, including the arcade games you'll need for your target clientele and the kinds of game play your arcade business will provide. The variety of vending arcade game machines for sale, redemption games (ticket games), and the play value of each of these game categories are all included.
Launch an Arcade Game Business
A business strategy is the first thing to do
The terrible reality is that launching a successful arcade company requires a solid, accurate business plan that includes a study of your market potential. This is most likely not what you expected to hear at first. Everything else will be based on your strategy. What machines, how many, where to place them, initial expenses, how many people will be there, and the anticipated return on investment.
Apply your strategy to find the greatest video games and arcade machines
Now that your strategy is complete, it's time for the enjoyable parts. locating the finest, most hip games and equipment for your area and target audience, as well as designing, planning, and constructing your perfect setting.
Your Ideal Location
Location, location, location—we've all heard it. Finding the "perfect" site for an arcade game room company may not imply the greatest location, but the appropriate place. Easily accessible to your target demographic, with the ideal leasing rate, conditions, and enough room to accommodate your visitors.
There are several considerations to examine when opening an arcade business. The total mix of attractions in a family fun centre includes your arcade game area. It may or may not be a crucial factor in the long-term success of your company, depending on the objectives of your fun centre and the characteristics of your target market. Don't be fooled— kids arcade gaming machines are still popular and lucrative in the appropriate setting, with the proper combination of equipment, and with the correct game room layout.
This discussion is intended to provide a broader perspective to the new arcade startup. Old-fashioned, standalone video arcade gaming rooms no longer have the appeal or draw that they once had. The fun centre or indoor party centre company itself, however, as well as your total attraction mix, have both benefited from a thriving arcade industry.
Designing video game arcades for profit
Each video game and redemption (or ticket) game that you may use in your arcade has a different level of playability or play value. The complete mix of your video game choices should provide your arcade company consumers a well-rounded and highly enjoyable guest experience when merged into a coherent arcade game room. A decent game room has to provide its visitors with a variety of arcade machines and gaming experiences, depending on your target audience. A variety of games and arcade machines are needed for the arcade business.
For instance, you need classic pinball games, fast play games, novelty games, merchandising and redemption games, shooting games, and driving games. You could also wish to offer child games if you want to target a younger audience.
Space Planning for an Arcade Startup
Here are some general guidelines for creating a successful arcade gaming room:
Use 5,000 square feet of floor space (50 square feet each game) for 100 games.
To conserve space, you may group games together side by side or back to back.
A front clearance of around 4 feet is required for video arcade games.
The front of the game needs 6 feet of space for games like basketball or sureshot.
Redemption games, however, may vary greatly. They should be played at least 2-3 feet in front of you and 1-2 feet on each side.
You may minimise the amount of space needed by pushing games that are the same category or title many times side by side.
This sort of cabinet game should be utilised as an attention-getter and put in a conspicuous area with a minimum of 4-6 feet surrounding the whole game for bigger, multiplayer arcade coin games or redemption games that may be played by 4 to 6 people at a time.
Families, tweens, adolescents, and groups of friends may go play and spend some time (and money) together at your family fun centre, indoor party centre, and other entertainment sites. There are many different video games, arcade games, and coin-operated games that may make your customers' experience varied, engaging, and a good use of their time.
You need to provide your visitors with a fair diversity of game-play and play-ability from a varied selection of arcade machines and redemption games in order to create a successful arcade game room. Your fun centre visitors should be able to enter the area and choose an arcade game to begin playing with only a fast look.
The Reasons for Installing a Vending Arcade Game Machine
If you own a shop, arcade, or other business that caters largely to children and families rather than adults, a vending arcade game machine for sale from Pankour Vending is the perfect approach to increase income.
Anyone passing by or shopping for other items is quickly drawn to a claw machine and wants to try their luck. Children clamour to get their hands on the treats, while adults reflect on their own happy childhoods.
In reality, adults and teens utilise claw machines the most. They could invest a lot of time and money in front of one in an attempt to win a plush animal, a mobile device, or some other reward. This emphasis makes these arcade options a great alternative for your company.
Final Thoughts for the Arcade Game Room
As soon as your visitors decide which games to play, how they play them is just as crucial as what arcade machines and games they choose to use. Some games are designed for many players and demand a lot more room than a single pinball machine would. Popular sports often attract large crowds, therefore it's crucial to have a prominent site with adequate surrounding room to handle such people.
Here are some important considerations to have in mind when seeking to buy arcade machines for your business:
Who are your consumers, and what age range do they fall into? This will assist you in choosing between arcade games and redemption games for your game choices.
How much floor area you have available for a gaming room. As was already said, interactive games and arcade machines come in a variety of sizes, and if you want to provide 60–70 games, you'll need a lot of space.
When positioning games, keep in mind effective crowd control and space management. Putting the most played and visible games in the centre of your gaming room will stimulate play and visitor engagement as friends watch friends play.
Use lights to brighten the space and draw visitors' attention to certain arcade games that are known to bring in money.
If you take the time to create and plan a nice gaming room with the appropriate game machines from providers such as Pankour Vending and space layout now, it will assist your arcade company startup attract significant repeat customers and income potential now and in the future.