Tip and Tricks to Boost your Sale And Increase Your Business with Coin Operated Machines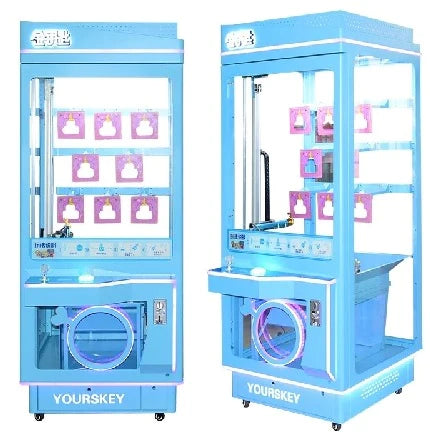 Operators of FECs and arcades are always seeking for new methods to boost sales, particularly during tough economic times, without raising their advertising or capital expenditure costs. One fast and simple approach to put up promotions and packages that will enhance your arcade income without investing more is to take advantage of existing capabilities in your arcade debit card reader system. This blog post by Pankour Vending offers the original ideas for boosting arcade sales in family entertainment centres.
Three Strategies to Boost Arcade Sales at Your Family Entertainment Centre
Add arcade games to party packages
This bundle might include a couple free games for the special guest and perhaps some redemption centre credit so you can enhance their celebration with a more desired gift.
In order to make everyone feel like a winner, you may also give the party attendees arcade credits, play passes valid for the length of the party, and perhaps a free, little prize from the redemption counter.
Giving your guests a few alternatives to pick from when it comes to your party packages is always a wonderful idea. By developing "good, better, best" package deals, you can make your location a practical choice for any budget. Take advantage of this if your property has additional attractions. As an optional extra for your party packages, provide game cards for each attendee.
This add-on option will not only guarantee that there will be no downtime for your visitors while the party is going on, but it's also a terrific method to boost arcade sales. Customers are more likely to reload their gaming cards when you offer them a brief taste of how much fun your arcade can be!
Provide modern prize options
The visitor should be "wowed" with your redemption centre. Your customer's desire to play and win may be increased by offering great rewards.
It's crucial to stay on top of the most recent developments in redemption rewards with Coin Operated Arcade Games because of this. Find out what the newest popular item, character, or movie is by asking your younger staff members and even devoted customers who often visit your arcade, and fill some of your redemption zones with rewards depending on their comments.
Younger visitors should expect their pals to enquire "Where'd you get that?!" as they display their new award at school. Sooner or later, brand-new clients will stop by your establishment in an effort to win a gift for themselves.
A selection of traditional toys and reward possibilities should be available in addition to the "trendy" ones. Traditional redemption rewards may draw in older players. A simple redemption toy, like a slinky, might bring up memories for parents from their own childhoods that they'll want to share with their own children. Regardless of age, who doesn't like a nice whoopee cushion or a light-up yo-yo to take home?
Prizes with large price values or big ticket items are also crucial. Make sure to include a few "top-tier" prizes, like a gaming console or a pair of Bluetooth headphones, for the attendees to strive for. Players will want to keep going to your arcade in order to accumulate points in the hopes of winning this worthwhile reward.
Organize a jovial or themed event
Think of holding an entertaining open-air event to get people to play in your arcade.
For instance, plan a Family Fun Day and provide 4-6 person group arcade packages. Before their fun even begins, you may get them thinking about the kinds of rewards they'll select at the redemption counter by include gaming cards, pizza, and even a tiny number of pre-earned credits!
If you want to add something extra unique to the occasion, think about getting or renting a photo booth for the arcade area. Families would value the opportunity to take a picture that will help them remember how much fun they had at your facility.
Additionally, you may encourage people to dress up and offer themed arcade evenings like "80's Prom Night." A reward is awarded for the best outfit!
Speaking of competitions, if your arcade has a basketball game, hold a competition and give the player with the highest score a reward. With other games, you can do the same thing.
Deals like this give visitors the impression that they are receiving the most value for their money at your establishment, without harming your financial position. Consider how other FECs are approaching marketing and bundling to get ideas for your own. To spark your imagination, you could also have a brainstorming session with your team or the supplier of your arcade debit card system.
4 more strategies to monetize the gaming sector
You could be interested in learning how to make money in the video games business if you're a self-starter seeking for your specialty or a developer who has always wanted to work in the field. Below is a list of the opportunities the sector offers..
Provide an additional fun source for clients
Consider your visitors' perspective. If they didn't make reservations in advance, they will have to wait when they arrive at your track eager for an adrenaline rush. The consumer has little choice but to wait until it's their turn to race if no other activities are provided. Thanks to the various games that are available to play, they have something to do to kill time and channel their competitive energy before the race. Customers will be more satisfied with their overall experience in the long run.
Spending of time
The money required for game development might be raised via crowdsourcing or by making an investment pitch. Whatever route you choose, keep in mind that game development takes a long time and sometimes even many years. However, profits might exceed the original investment even in the first few days after the publication.
Introduce coin operated arcade machines
One kind of entertainment equipment is coin-operated arcade game machines from suppliers like Pankour Vending. However, these devices are often used in public locations such as bars, clubs, arcades, and other meeting places. They pass the time as they wait for a bus or train with this specific human diversion. People like playing these entertaining games in their spare time. There are many different varieties of arcade games. Depending on the category, they are available in a range of shapes and sizes.
These are presently the top non-computer games available. On the other hand, the games' basic controls make them easy to play. However, many individuals still play free online games because of how intriguing and compelling they are.
Open a retail or wholesale operation
Offering arcade games to the general public is another means of earning money in the games business. Your costs will change depending on whether you wish to sell physical or digital games. When playing boxed games, you must set up and secure the location, pay the staff's wages, and provide the necessary utilities.
Supply the gaming business with marketing services
You could choose a job in marketing if you are acquainted with the gaming industry and have the ability to put yourself in the player's position. Marketing opportunities abound in the gaming industry. You may establish a business that runs advertising campaigns for game publishers or creators. Given that some gaming firms already have their own marketing agency, it could be difficult to make a name for yourself. But why not give it a go if your mind is always racing with game ideas?